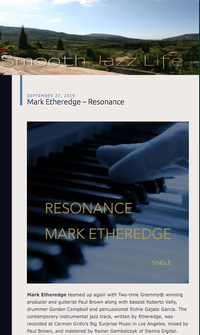 Mark Etheredge teamed up again with Two-time Grammy® winning producer and guitarist Paul Brown along with bassist Roberto Vally, drummer Gorden Campbell and percussionist Richie Gajate Garcia. The contemporary instrumental jazz track, written by Etheredge, was recorded at Carmen Grillo's Big Surprise Music in Los Angeles, mixed by Paul Brown, and mastered by Rainer Gembalczyk of Sienna Digital. 
Etheredge's first radio single "Connected" ranked No. 31 on Billboard's Smooth Jazz 2016 Year End Chart and ranked No. 2 on the Groove Jazz Music Top 100 for 2016. On January 3, 2017 the second radio single "Roger That" debuted at No. 2 on Billboard's Most Added Smooth Jazz Songs Chart. 
In physics, resonance is a phenomenon in which a vibrating system or external force drives another system to oscillate with greater amplitude at specific frequencies. (Source: Wikipedia) "I think as humans, we all have opportunities to resonate with each other–to be in tune and find peace with each other – if we want it enough," says Etheredge. "Resonance flirts with that possibility." 
Listen to Resonance on Smooth Jazz Buzz (Playlist 10/4).