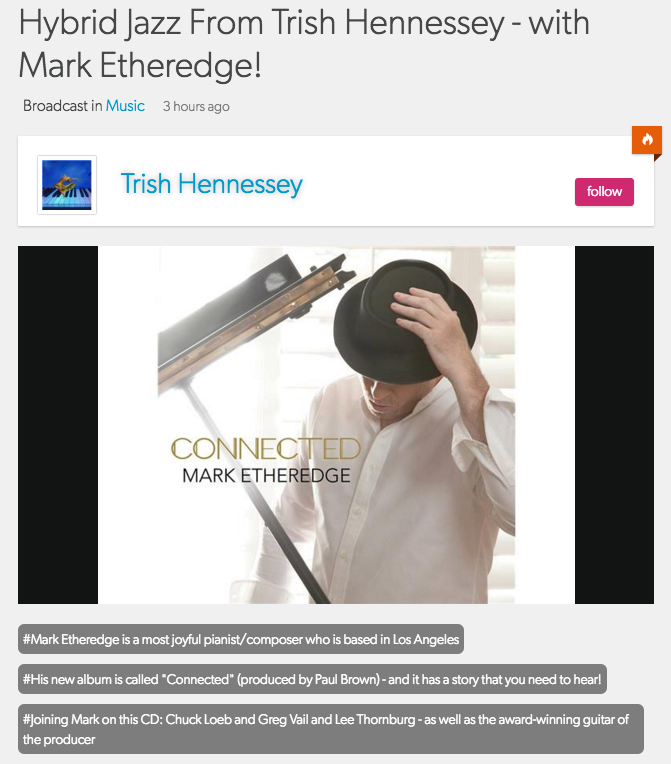 We're looking forward to this exceptionally driven guest.  Mark Etheredge is not your Average Bear when it comes to a Contemporary Jazz pianist/composer.  This is a beautiful soul, bullied in high school, and determined to turn that hurt and anger into something positive.  His live speaks it!  Mark's Mom was a music teacher and choir director - surely, she must have been his first inspiration.  What he has been able to do with that "fuel" is something. 
Mark has worked alongside some powerful personas in the business - including Bobby McFerrin, Sergio Mendes, Tuck and Patti, Betty Carter (!!!!) and more.  His Jazz Performance studies at San Jose State University only tell half of the story.  He had a job in tech space in Northern California - and "Connected" is his first collection recorded in Los Angeles since relocating there.  By this time, award-winning producer, Paul Brown, had caught wind of this talented artist - and you'll hear Paul's special stamp all over Mark's work.  They've given us a sweet collaboration here, mostly joyful and full of hope.  This was not the case during a pivotal time in Mark's life.  But he rose, like the phoenix that he is, to claim victory.  How cool that we get to witness it!  
"Connected" - as the initial single - has already made an impact on Billboard.  We'll hear that and "Lost in the Shuffle" - whose story begs to be told.  A mandatory third track will be in the mix, too.  Glorious melodies - infused by the talents of Greg Vail and Andy Suzuki on sax, Lee Thornburg - who arranges and plays trumpet, Chuck Loeb on guitar, and Paul Brown himself - adding to the effervescent - umm - connection :) 
We start the show at one p.m. Eastern.  Mark joins us at THREE.  See you in The Chat Room!  
Listen to the archive here: 
http://www.blogtalkradio.com/hybridjazzfromtrishhennessey/2016/04/05/hybrid-jazz-from-trish-hennessey--with-mark-etheredge