Mark Etheredge - You & Me & We 
Due out on August 12, 'Love Planet' from silky smooth keyboard player Mark Etheredge is his first album since 2016 when 'Connected' took the smooth jazz world by storm. Not only that it finds him emerging from the troubled times which have recently beset him to reconnect with producer and two-time Grammy winner Paul Brown for a tight ten track collection that has already been trailered by the singles 'Resonance' (2019) and 'You & Me & We' which followed a year later. 
The latest single, which is due to go to radio on July 18, is the title cut but for now and in anticipation of a full review of 'Love Planet' that will follow soon, sit back and enjoy 'You & Me & We'.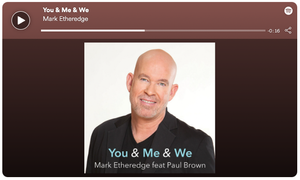 https://smoothjazztherapy.typepad.com/my_weblog/2022/06/mark-etheredge-you-me-we.html